featured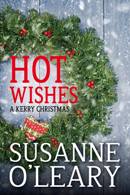 Hot Wishes

Book four in the Kerry Romance series- a Christmas special.
After a busy year of work, children and running a farm on the west coast of Ireland, Megan is looking forward to Christmas with her family and the group of friends she invites every year. Relaxing with the people she loves most, good food, wine and laughs in front of a roaring turf fire seems like the perfect way to celebrate.
But a letter announcing the arrival of a long lost relative promises to stir things up in ways she had never imagined. The stress of Christmas and family dramas add some strange ingredients to the turkey and stuffing that threaten to upset both her digestion and her marriage. Will this Christmas mark the beginning of a whole new relationship?